Yung Flamingo

Club

is about people from all walks of life who've used technology in unique ways for expression, business, relationships and everything in-between.

Yung Flamingo Club (YFC) is a LLC based in California started by Montana Mendy, Jake Augunas, Travis Allen and

Justin Purser

. Yung Flamingo Club is a simple format podcast. Montana Mendy and Justin Purser talk to tastemakers in technology, music, art, cinema, etc.

The Yung Flamingo Club interviews the most interesting guests on the internet. It's where the most marvelous men and women of the metaverse come to have a creative conversation in a format unlike any other show out there. A private podcast just for you (please don't tell anyone about it) which can be heard on every platform available including Apple Podcasts, Spotify, Stitcher, TuneIn, iHeart, Pandora, Google Podcasts, really anywhere podcasts can be found.

"Listening to Yung Flamingo Club is like taking Adderall and an Edible at the same time" - Podcast Weekly

"Yung Flamingo Club show is like Howard Stern Meets Between Two Ferns" - Ear Candy

"Montana and Justin's fresh format for the Yung Flamingo Club lets you learn about their famous guests in a way that reveals stories we haven't already heard them tell" - The Peoples Magazine

Gotta cool story and want to be on the Yung Flamingo Club?
r@yungflamingo.club
Montana Mendy (CTO) -
m@yungflamingo.club
Travis Allen (CMO) -
t@yungflamingo.club
Justin Purser (CCD) -
j@yungflamingo.club
Twitter -
@FlamingoClub
Don't want to scroll through our entire aesthetically AMAZING website and you want YFC summarized in a single page PNG? Fine we did that for you too -
The Flamingo Summary
Andrew Hales
is an American YouTube personality and vlogger known for his channel LAHWF, which has videos consisting of pranks/social experiments and interviews. Andrew has garnered 2.3 million subscribers to his YouTube Channel and climbed the ranks of YouTube to only do it twice, Montana Mendy and Justin Purser find out.


Max Joseph
is an American film director, artist, and a graduate of Brown University. For seven seasons, he was a host and cameraman for

MTV's Catfish

. Max Joseph has directed several films, including 12 Years of DFA: Too Old to Be New, Too New to Be Classic, Garden of Eden, Let's Harvest the Organs of Death Row Inmates, and several other productions. In this back and forth between Max Joseph and Montana Mendy they talk about how to be "film" at the upscale restaurant Nobu.


Sydney Lima
is a journalist, model, author and among other things based out of London. Sydney Lima currently works at VICE news, Montana Mendy and Justin Purser ask her about some of the most interesting stories she's covered, her modeling career and it's possible we even ask about "Juicy Couture".
Average Fashion Blogger
is a comedian, TikTok celebrity, YouTube celebrity and just an Average person in this world where everyone wants to excel. Montana Mendy and Justin Purser get into her monikers like "Average Fashion Blogger" and "corny", also we talk about a very special type of soup you can only get in Bali. This episode takes more twists and turns than Justin's hair.
Jamie Tworkowski
is a New York Times bestselling author of If You Feel Too Much. He founded the non-profit organization To Write Love on Her Arms in 2006, born from an attempt to help a friend and tell a story. TWLOHA is now recognized as an award-winning leader in mental health and suicide prevention. After fifteen years with the organization, Jamie recently stepped away to begin a new chapter, focusing on writing and speaking independently. Jamie's latest project is called Needs An Ocean.
We'll be the first ones in the Metaverse, we'll see you in there on our Flamingo Floaties In a pool sipping Cosmos.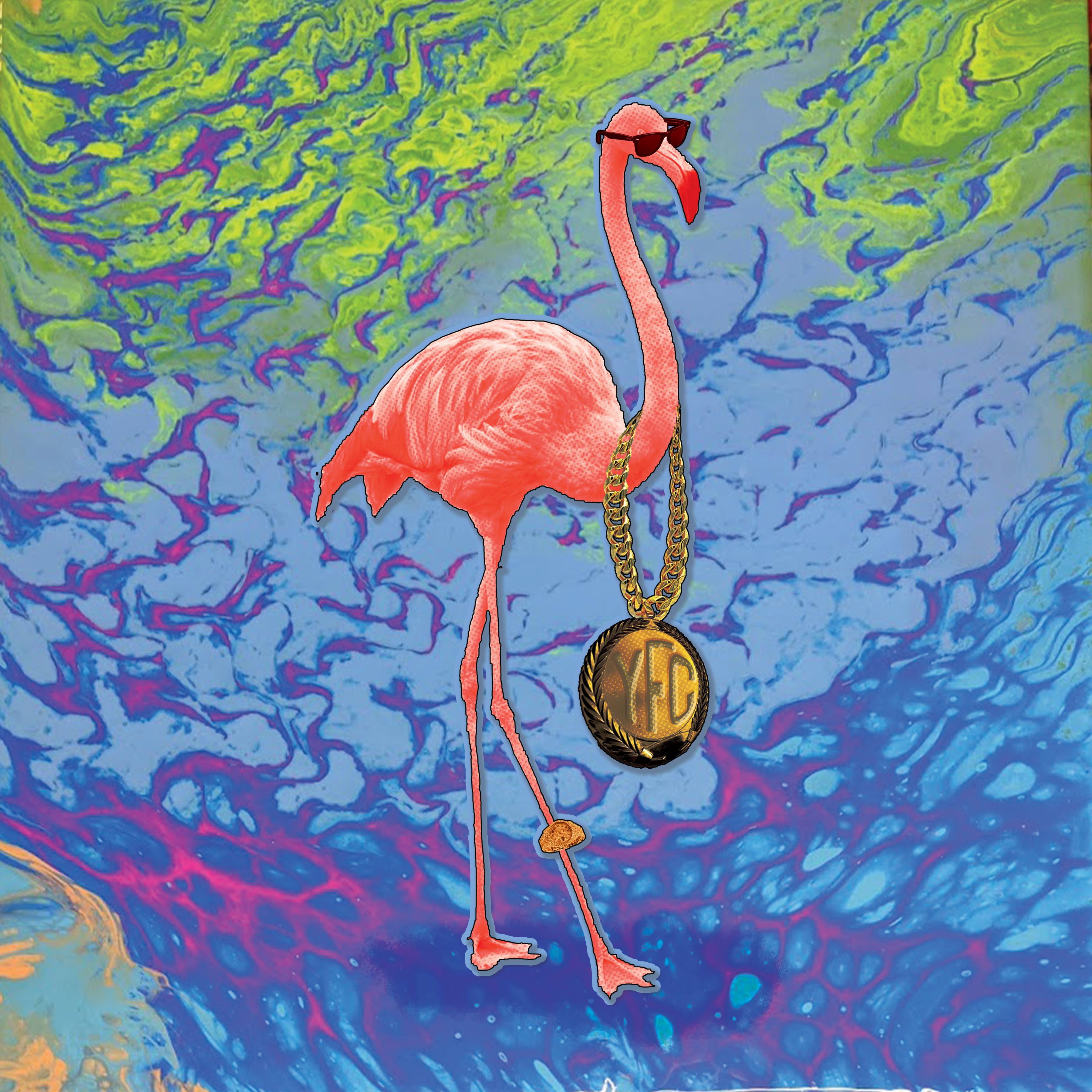 // Yung Flamingo Club painting (Pictured is a Flamingo wearing a necklace that says "YFC" which can be assumed stands for "Yung Flamingo Club") by

Jeff Ward

.
Alright, so you came on the podcast, are you actually going to become apart of the Yung Flamingo Club? Find out after each episode.



Fun fact: A group of flamingos is called a flamboyance.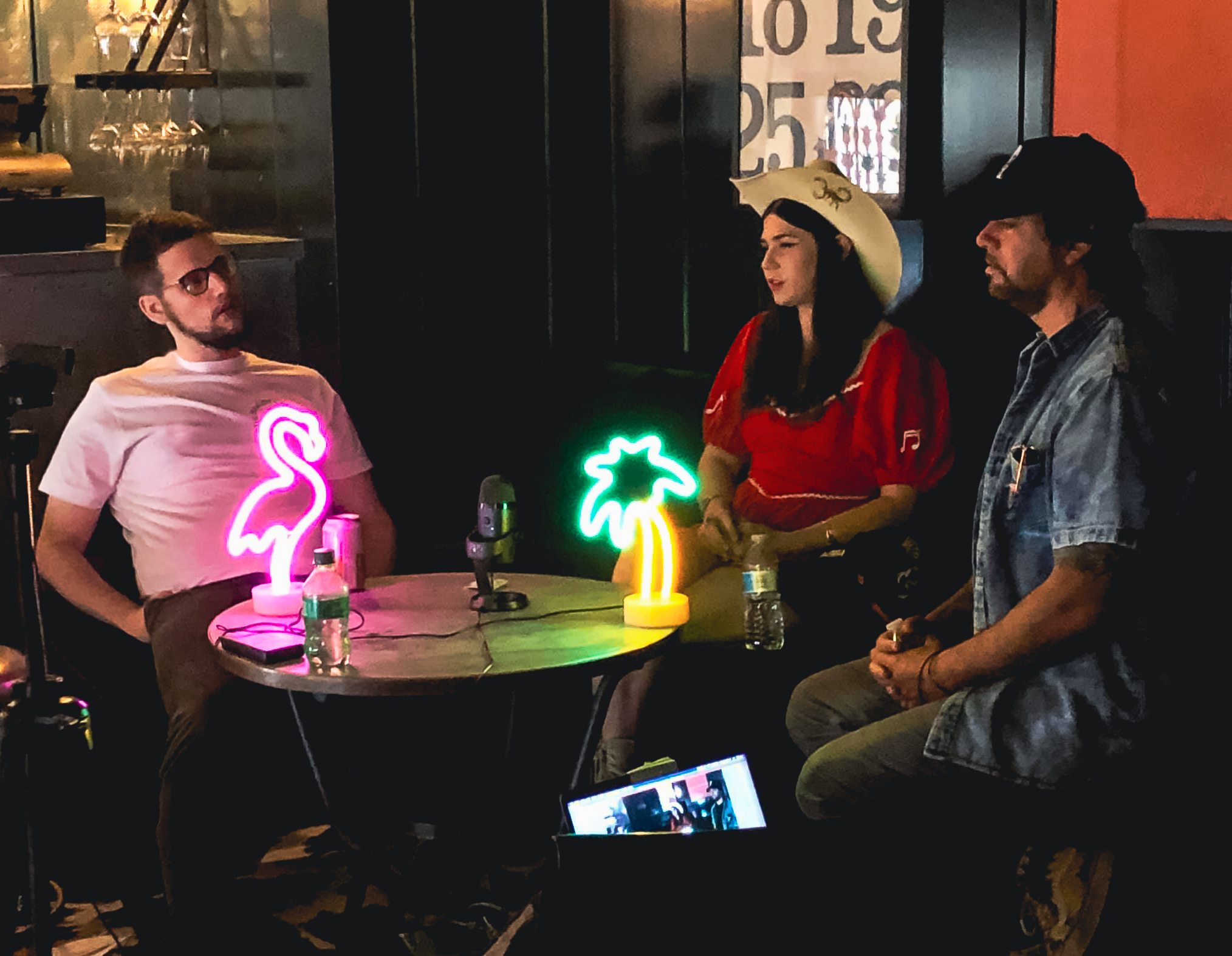 // Live at the Ace Hotel: Downtown Los Angeles with

Pearl Charles

.

Yung Flamingo Club is quickly becoming the de facto mix and match podcast format that everybody loves. We start a story, end a story, so the listener can digest the whole scope of the podcast within an hour.
Season after season, we are growing a brand, we are growing and becoming the pioneer of simple mixed format podcasting.

Chief design officer (CDO)
Jake Augunas

is a synthesizer of language, art, design, and technology, Jake seeks to combine a diverse array of disciplines and creative practices in order to solve both the mundane and extraordinary problems people face in their daily lives. Design, flow and sometimes co-hosting for the Yung Flamingo Club, Jake is a definitely a 'Jake of all Trades' here at Yung Flamingo Club.

Chief marketing officer (CMO)
Travis Allen is living the slow life. With Allen's genius he's proven to be the catalyst of many things happening currently within Yung Flamingo Club. Travis Allen is methodical, when it comes to execution, Allen executes with precision. Picture Travis driving a car, and the decision is to make a left and get to your destination, or go right and get lost, Travis will always go left and make the right decision every time. Travis Allen is irreplaceable here at Yung Flamingo Club.
Chief technology officer (CTO)
Montana Mendy is the original founder of Yung Flamingo Club. Montana Mendy resides in San Francisco, CA, and sometimes in Los Angeles, CA. Mendy has been a software engineer since the age of 16. He has a strong affinity of combining art and technology together in various ways, one of the ways he does this other than what's in the pipeline currently? He's the host of Yung Flamingo Club.
Chief creative director (CCD)
Justin Purser is from Los Angeles where he works in the entertainment, advertising, and growth hacking industry. As a director, he's directed a feature film, music videos, and commercials. He also was one of the original creators of one of the most famous MCN's which shook up Hollywood and set the stage for influencer marketing. He's catalyzing the team's creativity for the club.